About Me
Name: Lonnie Bruner
Location: Washington, DC, United States
I live in DC, sail the Chesapeake Bay, have a lovely wife who's a web designer, a young son, an unruly hound dog, and am interested in most everything in the world. Oh yea, and I love the smell of burning trash in the Third World. That just gets me going.
Latest
Best of
Archives
Blanketing opinions that I'll probably regret soon.
Tuesday, October 11, 2005
The UNICEF bombing the Smurfs story is an interesting case study of blogs.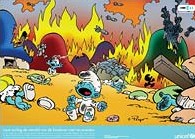 I first read about the
UNICEF bombing the Smurfs story
on
BoingBoing.net
exactly three days ago.
Early yesterday morning I did a little experiment. I did a
news.google.com
search on "Smurfs, UNICEF" and found only three (3) mainstream news sources that had the story. Next, I did a
blogsearch.google.com
search for "Smurfs, UNICEF" and it gave me 164 different results! And it took until tonight for it to make the evening TV news.
The Smurfs story isn't very important, but it's certainly newsworthy on a human interest level. It's amazing what a lumbering dinosaur mainstream online news has become. It seems like for those who want up to the minute information, you have to depend on non-"fact-checking" blogs.
Web Counters